DIY iron-ons

Order a heat transfer and apply it to your favourite clothes.
DIY iron-ons
Order a heat transfer and apply it to your favourite clothes.
NEW ! Embroidered patches
 Why DIY iron on transfers ?
ECO-FRIENDLY stop mass consumption  
CHEAP DIY sticker is 3 to 5 times cheaper than a t-shirt 
COOL you apply sticker on a piece of your own clothing that suits you well
NO LIMITS thanks to your iron you can apply heat sticker on any everyday object made of textiles, jeans, bags, car seats, pillows, aprons etc.
Under no circumstances can our stickers be used for counterfeiting !
But only to renovate and embellish your branded clothing.
Usually, when you want to change your look, you go to the store and buy a new t-shirt. Not only do we spend money, but we carry motifs and texts that first inspired a more or less well-known creator to be reproduced in millions of copies.
When you want "a personal touch", you invent your own text and order a "personalized" t-shirt on specialized websites. The problem is that very often we receive a t-shirt that does not fit us (color, size, shape...) or clearly of poor quality. Hello, disappointment! We put it on once and throw it in the garbage. Not too green either!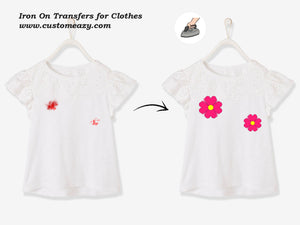 However, there is a cheap, ecological and user-friendly solution to personalize your clothes. And not just t-shirts! You can easily and for peanuts  customize jeans, dresses, shoes, bags, caps, jackets, suitcases, cushions, almost everything! We even saw seats of a sport car customized with its sunroof!
You've probably heard it before, it's called "DIY": "do it yourself".  To personalize your clothes and accessories according to your desires, all you need is is an iron: a few seconds are enough to give them a new life. The process is called "flocking" or "ironing on". It consists in applying on the textile (but also on the leather!) a pattern, picture or a text cut out of a special vinyl called "flex". Under the heat and pressure of the iron, the flex penetrates the fabric. You certainly have a pair of sneakers or jogger pants with the brand logo applied through this process. Unlike printing on textiles (silk-screen printing), the flocking technique ensures a very high graphic respect. Sharpness is ensured by the perfectly opaque appearance of the flex. Ironing on is ideal for short run customizations. When touched, the "flocked" image is felt to be plasticized and slightly raised.
On the other hand, flocking is not suitable for complex images with gradients, it is rather used for patterns and texts of one to three colors. Unlike printing on fabric, a custom ironed on t-shirt can withstand multiple washes without losing its color. Moreover, the quality of a homemade flocking with an iron is almost identical to that of a flocking made by professionals.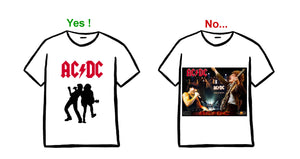 At Customeazy we design and manufacture iron-on transfers for flocking. To simplify, they are called "iron-on textile stickers", "textile stickers" or "t-shirt stickers". You can choose from hundreds of "ready-to-use" stickers: humor texts, original designs, brand logos (to renew a worn logo or replace it with another, with different color or shape).
You can also order your own iron-on sticker from us. Just find an idea and send us the image as an attached file. Here is the direct link
to the customization page. Images from one to three colors are accepted.
We only sell stickers: it is up to you to make the flocking on your clothes, shoes and accessories.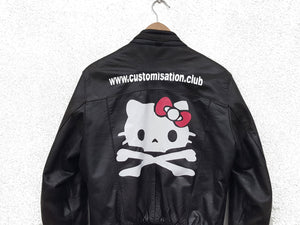 Another great advantage of "flocking" is the material used. "Flock" is a vinyl for flocking that has a velvety texture, very pleasant to the touch. There are many other flocking vinyls with original textures: glossy flex (gold, bronze, silver, mirror effect...), glitter flex, 3D (very thick vinyl), fluo flex, holographic, metallic, patterned flex (carbon, jeans, leopard) etc.
To your imagination! And don't forget, in the age of "all disposable", customization is the best way not to waste, while remaining original and unique. Did you stain your new jeans? Have you found your old dress that looks so good on you but has lost its "personality" and color? Are you trying to resist overconsumption? Now you know it, the solution exists! ;)