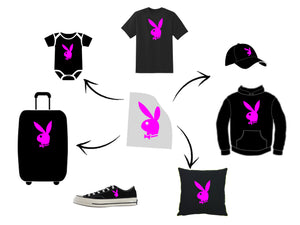 Create your own custom t-shirts, jackets, socks, pants, accessories and more with Customeazy's transfers !
How do you do it?
1. Choose the size that suits your project (the size indicated is the size of the longer side).
2. Place the order. You will receive a confirmation letter.
3. Send your project as an attachment by replying to the letter received.
4. Be sure to send a high-resolution image in one of common formats (jpeg, png...) Maximum two colors. Colors cannot have shades as in the image below.

If you are hesitating than simply send us an email
sales@customeazy.com We will try to answer within an hour !

Our custom iron-on transfers are a great way for you to show off your creativity or personal expression, and are exciting and fun for any event. Represent your favorite teams, brands and clubs, or celebrate birthday parties, bachelor and bachelorette parties, and more with custom iron-on transfers for clothes.
Once applied, your iron-on t-shirt transfers will stick strong and last long for years to come!